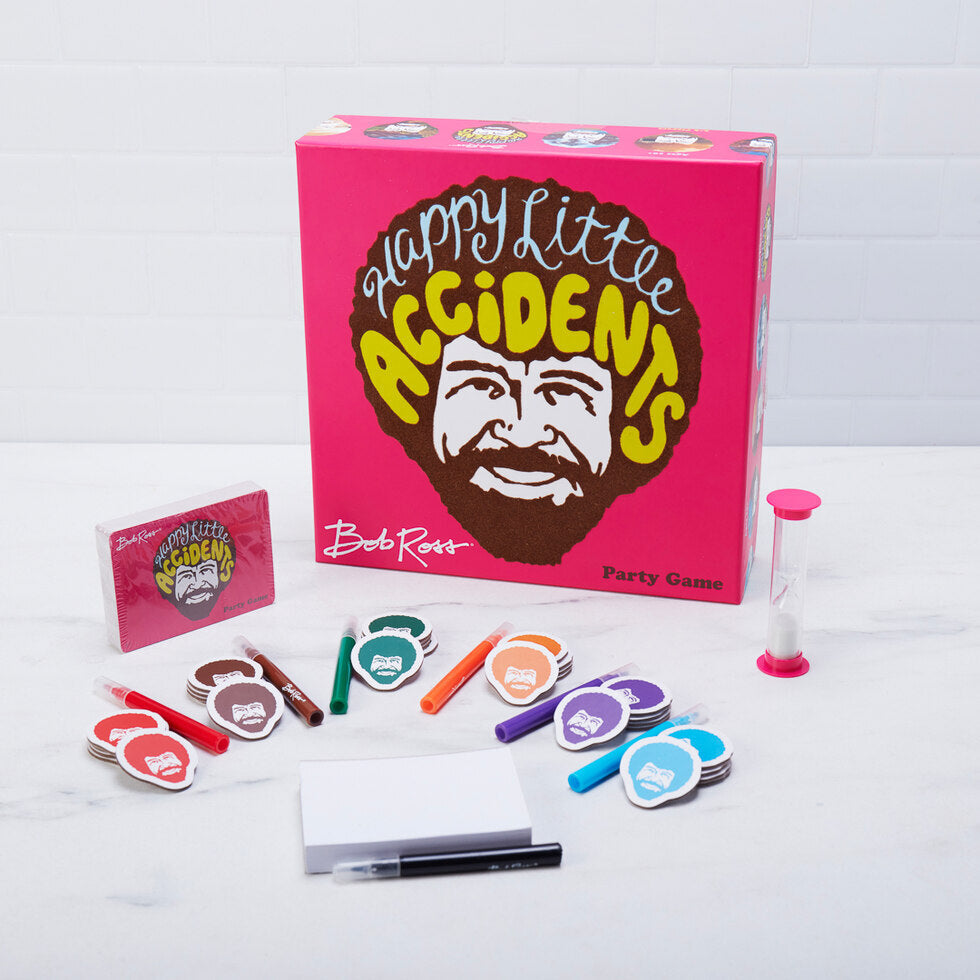 Key Features:
Transform mindless lines and squiggles into ART
Win the votes of your fellow "art critics" to win
Makes Pictionary look exceedingly boring and pretentious
Channel your inner Bob Ross to ensure victory
More Info:
Bob Ross: Happy Little Accidents Party Game
Everyone's favourite fuzzy-headed paint-slinger, Bob Ross once said: "We don't make mistakes…just happy little accidents."

He was only half-right, because not buying this game definitely wouldn't be a happy little accident. This isn't some pretentious Pictionary clone, this is a proper party game where players transform careless squiggles and abstract shapes into charming pieces of 'art'.

The game begins with each player scrawling a series of half-assed lines on pieces of paper, these are then placed face down and shuffled. A word card is drawn (e.g. mushroom, president etc.) then everyone has 30 seconds to turn a doodle into something vaguely resembling the word.

Win the votes of your fellow art critics to win!
Product Details:
Product Features:
Unpretentious party game where players turn scribbles into artistic masterpieces
3-6 players, Ages 10+
Gameplay lasts around 15 minutes
Includes plenty of pencils and paper
Dimensions:
Measures approximately 22.5cm(W) x 22.5cm(H) x 6cm(D)
Customer Reviews
Looks like

Bob Ross: Happy Little Accidents Party Game

doesn't have any reviews yet. Have you tried it out? Let us know what you think!
Leave a review
This site only delivers to .
We ship to 242 countries,
choose yours

here