Personalised Air Fresheners
Scent-sational!
Expected delivery
Thu, 08.12 – Fri, 09.12
Whoopsi, didn't you forget something?
You didn't personalize everything, please check the preview and replace the placeholders (or do you like them?)
Problems? Check our FAQ's (link follows for other stores) FAQ
Personalise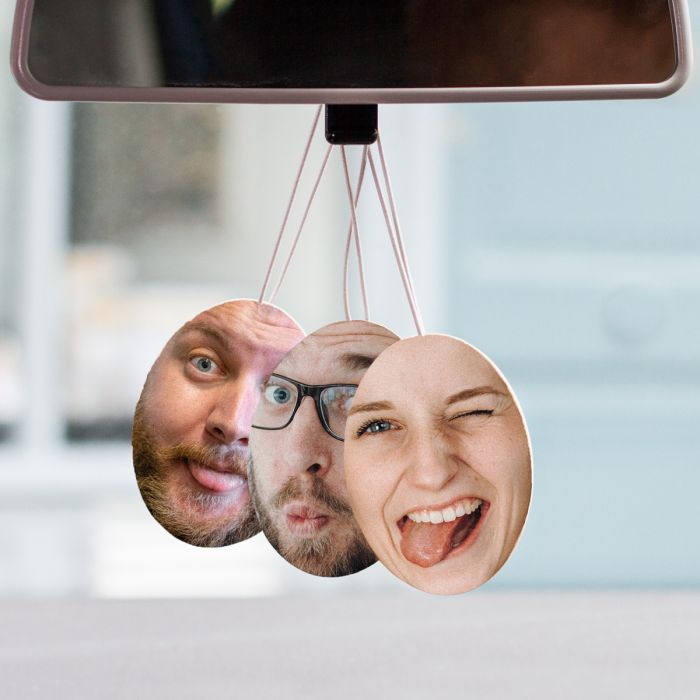 Thanks! We'll let you know as soon as it's back in stock.
Key Features:
Face or image can be personalised.
Great gift for friends, family, or your own car.
Material: felt.
Approx. dimensions: 8 x 10 cm.
More Info:
Personalised Air Fresheners
Gone are the worries of your motor smelling of last night's takeaway or that incident that got a bit sweaty on the backseat. With these personalised air fresheners, not only will your car have a delightful sea scent, it will also make you smile every time you look in the rear view mirror. 
Creating it is simple; decide on the photos you want, one for the front and a different one for the back, make sure they're high quality and zoomed in nice and close. Each face will cover one side so both drivers and passers by can enjoy your weird choice in car accessories.
Stuck for ideas? Why not choose a picture of your Mum to remind you not to ruin her 5 years no-claims bonus? Maybe one of your mates so that you're never riding solo? Or torture yourself with a pic of your celebrity crush, knowing that's as close as you'll ever get.
Product Details:
Personalised air freshener with sea-scent fragrance.
Solid felt quality (3mm thick).
Scent tree is printed on both sides.
TIP: When the scent wears off, you can add a few drops of your own essential oil or perfume to give it a boost.
Material: 100% polyester fibres.
Approx. dimensions: 8 x 10 cm.
As this product is tailor made for you, we are unfortunately unable to accept returns.
Customer Reviews
Leave a review
Its my fault for not reading properly (although I can't see anywhere to state how many there are) but I was under the impression that this was a pack of 3 due to the first picture being of 3 air fresheners and that it's labelled as 'air fresheners' in the plural. The quality is good but I feel it's quite overpriced for a single one.

As I said, the quality is good so no issues there, just pricey for a single air freshener.
Very funny! I gave it to my dad as a present.
He sees my face every time he drives now. LOL!
This site only delivers to .
We ship to 242 countries,
choose yours

here