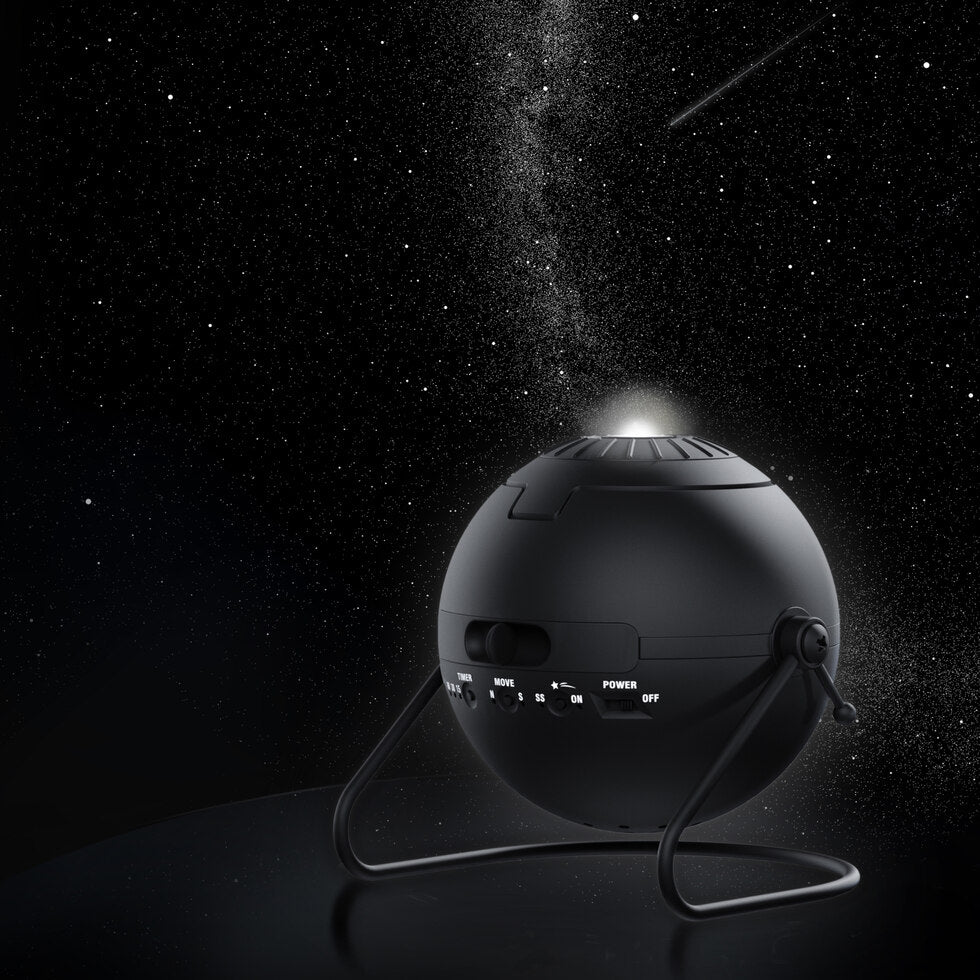 Key Features:
Turn any ceiling into the night sky, complete with shooting stars
See over 60,000 stars in stunning detail
Compact, chic and easy to store
Invite everyone round for a cosy stargazing night
Fall asleep under the calming majesty of the cosmos
More Info:
Star Theatre Planetarium Flux
You don't need to journey to the frigid middle of nowhere to enjoy the stunning beauty of the night sky anymore. This home planetarium gives you unbridled access to every star in the solar system from the comfort of your own sofa by projecting them onto your ceiling in stunning detail, regardless of how high or low it is.

Unlike the real deal, you won't be squinting aimlessly into the dark. The Flux model features custom made 5 watt LEDs for optimal visibility and advanced multilevel glass lenses that allow for better-than-real-life projection. There's even an advanced shooting star function so you don't miss out on any aspect of real life stargazing.

Instead of shivering in your gloves and hat, truly relax under the stars from your sofa, bed, or even the floor. There's nothing more peaceful than falling asleep under the stars - only this time you don't need to be paranoid that you'll wake up to a fox nibbling your toes. The Flux doesn't make any sounds so you can drift off in peace. And with the 15/30/60 minute timers, you don't even need to worry about turning it off when you're asleep.

When you become acclimated to coat-less stargazing, you'll never settle for the cold, harsh outdoors again.
Product Details:
Product features:
Flux home planetarium
See over 60,000 stars
15/30/60 minute timers
Advanced multilevel glass lenses
5 watt LED brightness
Compact size
USB cable for wall plug or power bank
Semi-random advanced shooting stars
Silent rotation
Smooth perfected focus dial
Suitable for low and high ceiling
Dimensions:
Measures approximately 23cm (H) x 19cm (W) x 19cm (D)
Customer Reviews
Leave a review
It is good, but it's VERY expensive for what it is, and (I should have shopped around!) it seems like you can get this exact same product much cheaper elsewhere. The two included slides are nice, but there are loads more for sale elsewhere that are way better/more exciting (like aurora borealis ones). The preview picture makes it look like the projection will be in colour but this is very misleading, the included slides are black and white only, so it doesn't look nearly as exciting as that picture! The picture is also totally unrealistic because there's no way you could get the projector to focus up a wall like that — you really need it shining onto a flat ceiling. The motor that makes the projection slowly turn round is kind of noisy and stops me from sleeping, so if I want to have it on the timer mode as I'm dropping off to sleep I can't also have it moving. It is a good product and does seem to be the best of its kind, but the price it's being sold at here is at least £50 over what you should be paying, which is a shame, and it really should include more slides, especially the one that's shown in the evocative preview picture
This site only delivers to .
We ship to 242 countries,
choose yours

here