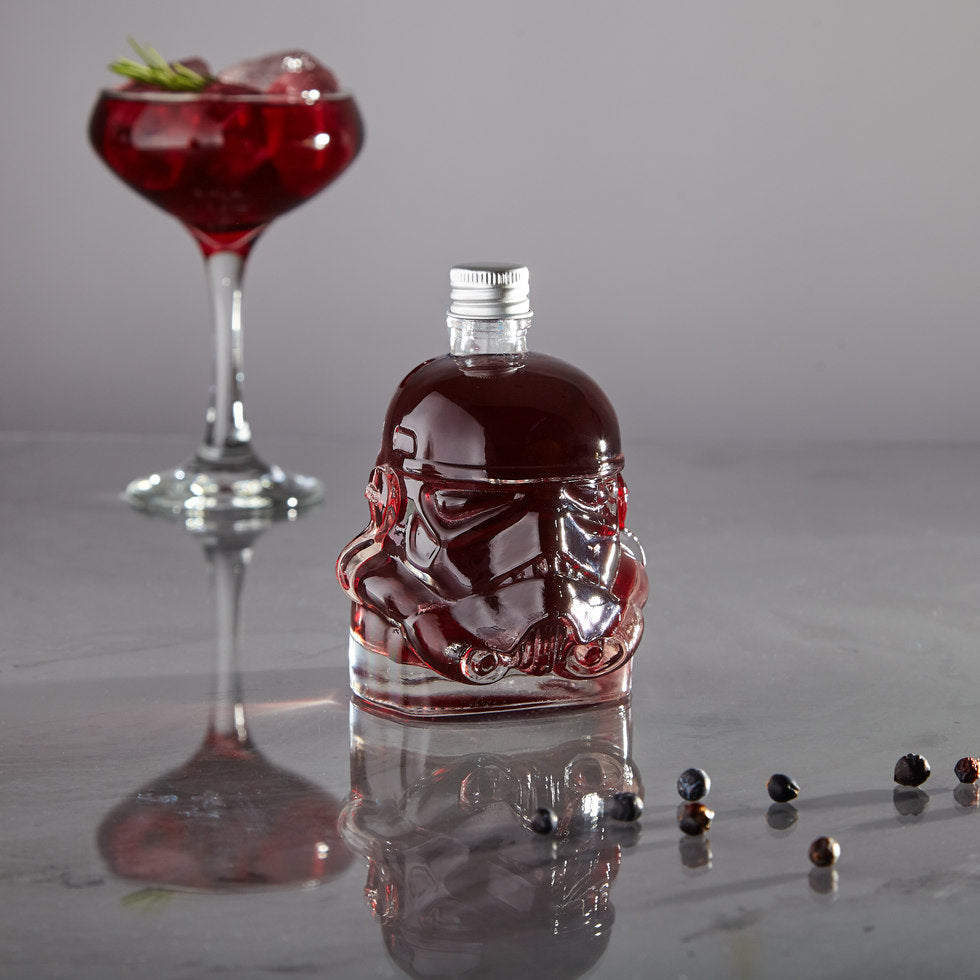 Key Features:
The keenest weapon in any Emperor's bar
These ARE the gins you're looking for
Two bottles of gin in one glorious package, by the award-winning Bimber Distillery
Each in an original, reusable stormtrooper glass bottle by Shepperton Studios
More Info:
Stormtrooper Gin
Unlike the ol' bucketheads, ensure you never miss a shot with this stunning set of two bottles of stand-out gin - with a nerdy, officially licensed stormtrooper twist.
Let's start with the bottles - modelled on the authentic stormtrooper helmets designed by Shepperton Studios, of course. Yep, the very same studio that produced and created the originals for the very first Star Wars film back in 1976. Nice.
After rendering the stormtroopers in the finest glass available, they passed them on to the award-winning Bimber Distillery, who filled them with two of their favourite classic gins. Both gins in this galactic twin-set are packed full of specialist botanicals for two uniquely sophisticated spirits. These guys know their stuff.
After opening the box, you'll have a tough decision on your hands: which gin to use first? Take your choice between...
London Dry Gin - think juniper berries, peppery spices, pleasantly dry and earthy notes with a gentle citrus finish
Sloe Gin - Fresh berries with a kick of pepper, sweetness meets tangy sour, slightly creamy and softly fruity
Or double up and mix 'em together for a super-charged turbo G&T. Too much? You're not going to stop the rebel alliance with that attitude!
Product Details:
Product features:
Two different gins in original stormtrooper glass bottles
Each set contains one bottle of London Dry gin and one bottle of Sloe gin
Officially licensed stormtrooper merch, don't stress
25cl capacity per bottle
Bottles designed by Shepperton Studios, the makers of the original stormtrooper helmets!
London Dry Gin (40% ABV) and Sloe Gin (30% ABV) by award-winning micro-brewery, Bimber Distillery
Customer Reviews
Looks like

Stormtrooper Gin

doesn't have any reviews yet. Have you tried it out? Let us know what you think!
Leave a review
Welcome to Firebox!
For all deliveries to the UK you can stay right here at firebox.com
For all deliveries to a country in the European Union please go to firebox.com/eu