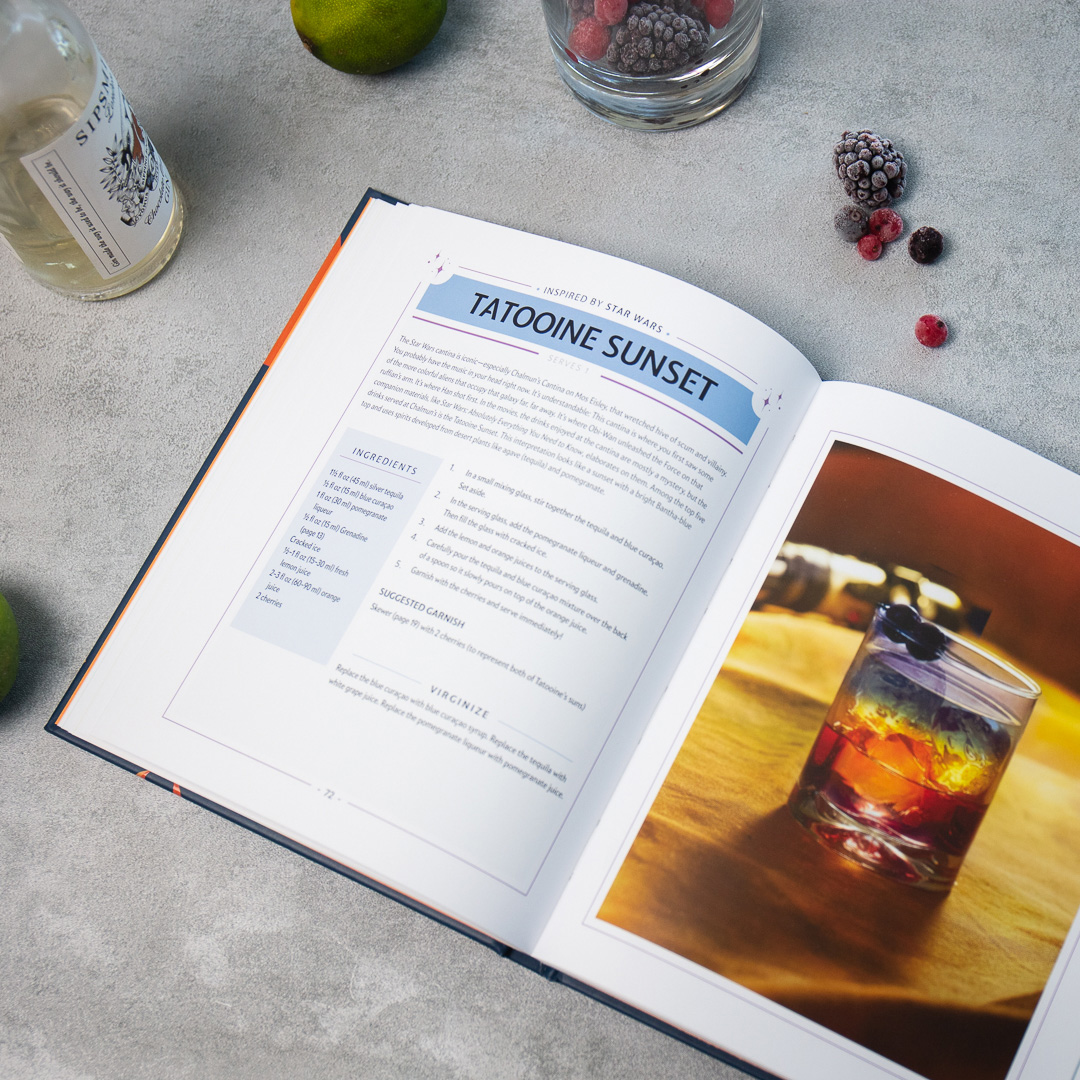 Key Features:
Ever wanted to taste Romulan Ale, Miruvor or Moloko Plus?
Drinks inspired by Game of Thrones, Star Wars, Harry Potter and more
Over 70 iconic (and exceedingly geeky) cocktail recipes to choose from
Each one features simple instructions and classy cocktail photography
Written by Cassandra Reeder aka The Geeky Chef
More Info:
The Geeky Bartender
Always dreamt of kicking back with a cool, refreshing glass of
Ambrosia
from Battlestar Galactica? Or nonchalantly sipping on a
Vesper Martini
like James Bond? You need to level up your home boozing and get your hands on
The Geeky Bartender
.
This classy hardback book is a compilation of
over 70 deliciously-geeky cocktails
from all corners of the pop-cultural galaxy. Whether you're a binge-watching Netflix fiend, a cult film nerd or a gaming addict, The Geeky Bartender has you covered with boozy delicacies inspired by the likes of Star Trek, The Simpsons, Doctor Who, Harry Potter, The Legend of Zelda and more.
Each recipe is super easy to follow so you can effortlessly mix, shake, stir and sip your way through the most
iconic cocktails
from the worlds of science fiction, fantasy, and beyond. Oh and for all of you teetotal geeks out there, don't panic, this book has a
nonalcoholic chapter
along with plenty of clever techniques for making drinks alcohol-free!
Looking for some gourmet geek cuisine to match your new cocktail creations? Give
The Geeky Chef
a try.
Product Details:
Product Features:
Learn how to make geeky pop culture-inspired cocktails!
Over 70 tasty (and very nerdy) drinks recipes
Includes an alcohol-free chapter full of equally delicious boozy delights
Hardback, 160 pages
Dimensions:
Measures approximately 17cm(W) x 21cm(H) x 1.4cm(D)
Customer Reviews
Looks like

The Geeky Bartender

doesn't have any reviews yet. Have you tried it out? Let us know what you think!
Leave a review
Welcome to Firebox!
For all deliveries to the UK you can stay right here at firebox.com
For all deliveries to a country in the European Union please go to firebox.com/eu