Face Wrap - Personalised Gift Wrap
Wrap your head around it.
Expected delivery
Fri, 09.12 – Wed, 14.12
Whoopsi, didn't you forget something?
You didn't personalize everything, please check the preview and replace the placeholders (or do you like them?)
Problems? Check our FAQ's (link follows for other stores) FAQ
Personalise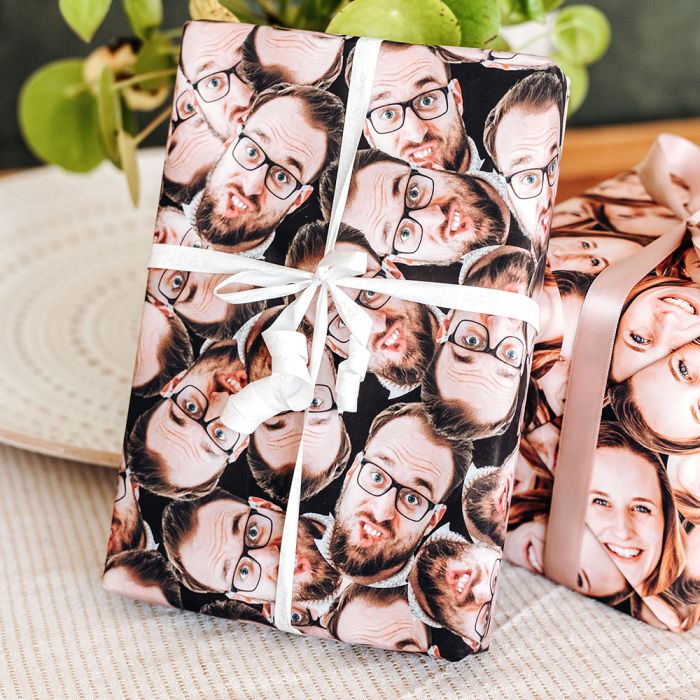 Thanks! We'll let you know as soon as it's back in stock.
Key Features:
Wrapping paper with ANYONE you want on it!
Yes, ANY face you want tiled across your wrapping paper
Just upload their face, and we'll do the rest
More Info:
Face Wrap - Personalised Gift Wrap
Put an end to 'Now, who's this present for?' with our fabulous Face Wrap. We'll put any face you want on some wrapping paper and you can put your feet up knowing that you'll be the centre of attention on Christmas Day. Sound like a deal?

Just imagine those faces, merrily tiled across your neatly wrapped gifts, and the joy on your recipient's faces as they notice and think to themselves, "Wow, [YOUR NAME HERE] sure is a generous, creative, hilarious specimen. I might give them all my money/propose to them/buy them a new car/write an album of songs about how lovely they are/wash all of their dishes forever."
Product Details:
Product features:
Personalised wrapping paper featuring ANY face you want on it
You bring the face, we'll bring the wrap
Simply upload your chosen face with our special tool and we'll do the rest!
Each sheet of wrap is approximately 150cm x 60cm
Images uploaded must be larger than 1000 x 1000 pixels.
Customer Reviews
Looks like

Face Wrap - Personalised Gift Wrap

doesn't have any reviews yet. Have you tried it out? Let us know what you think!
Leave a review
This site only delivers to .
We ship to 242 countries,
choose yours

here