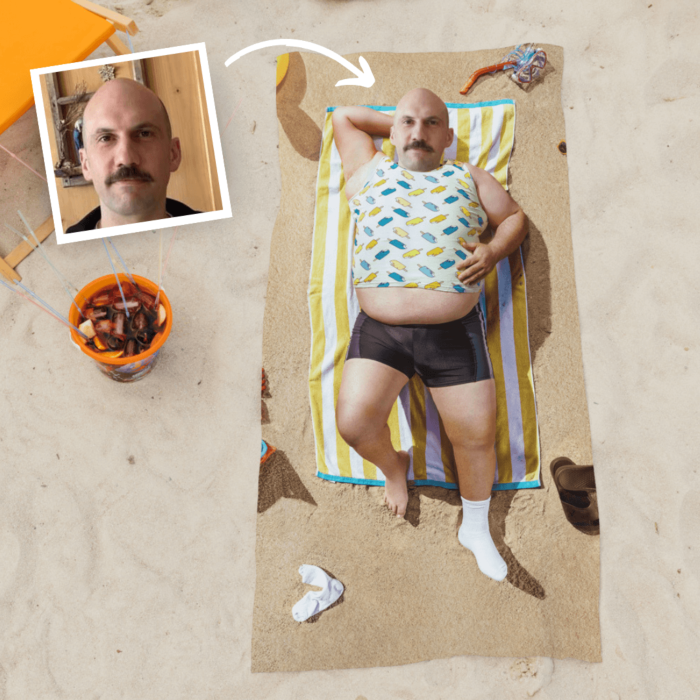 Beach Bod Personalised Beach Towel
Turn your holiday into a LOLiday.
Beach Bod Personalised Beach Towel added to basket
Turn your holiday into a LOLiday with our personalised beach towels. Superimpose your face on a hilarious choice of 8 bodies, from rad bod to dad bod, baby to lady, and more. You can upload any face you want, so these towels make the perfect gift for family and friends with a sense of humour, too. Always dreamt of having a 6-pack or fantasised about carrying a well-crafted beer belly? Now you can make that dream a reality! It's theft-proof too; no one's going to steal something with your face on it, which leaves you free to make awkward Tik Tok dance videos on the water's edge without fear of losing your favourite new towel. #perfect
These personalised beach towels are #squadgoals
If you're heading off on holiday with your mates this summer, we've got the perfect beach accessory for you and the crew. Pack these personalised 'Beach Bod' towels in your suitcase and watch as their little faces light up when you hand them out on the beach. With so many bodies of all shapes and sizes to choose from, you can match all of your mates with their own unique torsos, from dad bod to dream bod and everything in between!
A perfect gift in so many ways. For
HOW IT WORKS:
1) Add a clear photo of the face you want to use in our photo uploader.
2) Click on "crop image" and choose your dream body from our designs.
3) Check the preview to make sure everything looks spot on.
4) Order & check out.
5) Don't miss your freebie! Order 2 and get the 3rd one FREE.
6) Go about your business while we create and deliver your goodies.
7) Unpack everything jubilantly. 8) Off to the beach with your new favourite thing.
We would LOVE to see your towel in action, so tag us in your pics! @firebox
That would be really great!⭐
This site only delivers to .
We ship to 242 countries,
choose yours

here