If you want to 'prost' without the cost, our Oktoberfest party guide will help you recreate the famous beer festival from home without having to fork out on flight tickets. We've also created a dedicated Oktoberfest section at Firebox where you'll find lots of fun, beer bash goodies in one handy place.
Oktoberfest: A Brief History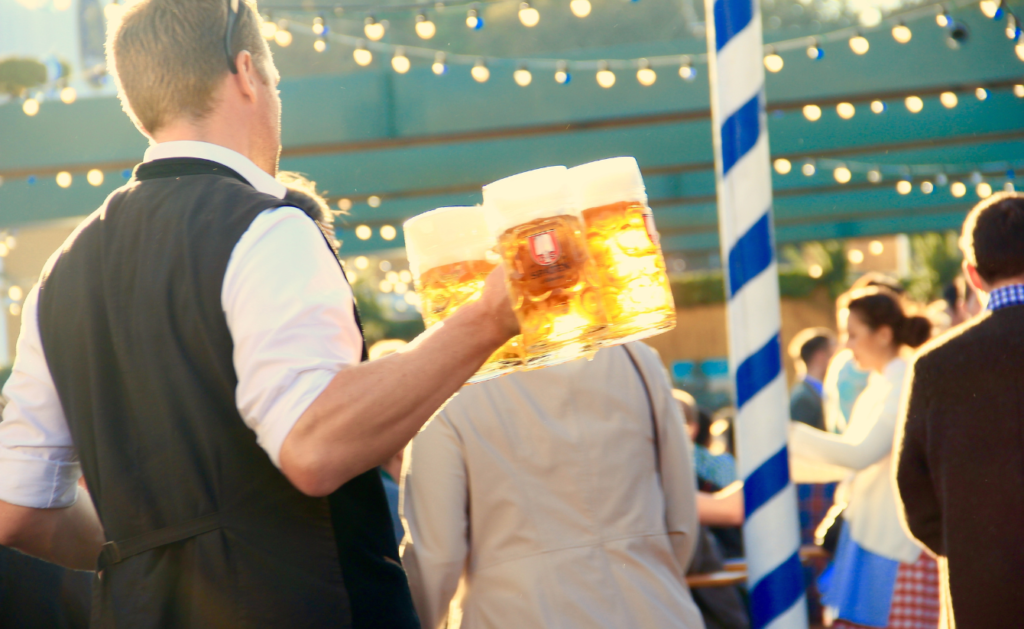 If you're going to host an Oktoberfest party, first up you need to educate yo-self. As host, you're expected to be the font of all knowledge when it comes to German alcohol festivals, so here are some facts to cover you should any Bavarian beer questions arise.
The very first Oktoberfest took place in 1810.
It was originally a wedding celebration for King Ludwig I and Princess Therese of Saxe-Hildburghausen.
The festival runs for 17 or 18 days depending on the date that the first Sunday in October falls.
The festival opens when the first keg is tapped by the Mayor of Munich who shouts "O'zapft is!" which means "it's tapped!".
The first litre of beer is always given to the Minister-President of the State of Bavaria (currently Markus Soder).
"Quiet Oktoberfest" was introduced in 2005 to appeal to families and the elderly, this means only traditional brass music is allowed until 6pm, after which Schlager pop or electronic music can be played.
You are only allowed to drink if you are seated, so tables are gold dust.
Oktoberfest has a station for lost and found children.
Only beer brewed within the city limits of Munich can be served at the festival.
Letters which are placed in the Oktoberfest mailboxes receive a special stamp from the post office.
There is a genuine flea circus where a team of 60 fleas perform for festival goers.
In 2014, 7.7 million litres of beer was served, making it the year where the most beer was consumed at any Oktoberfest.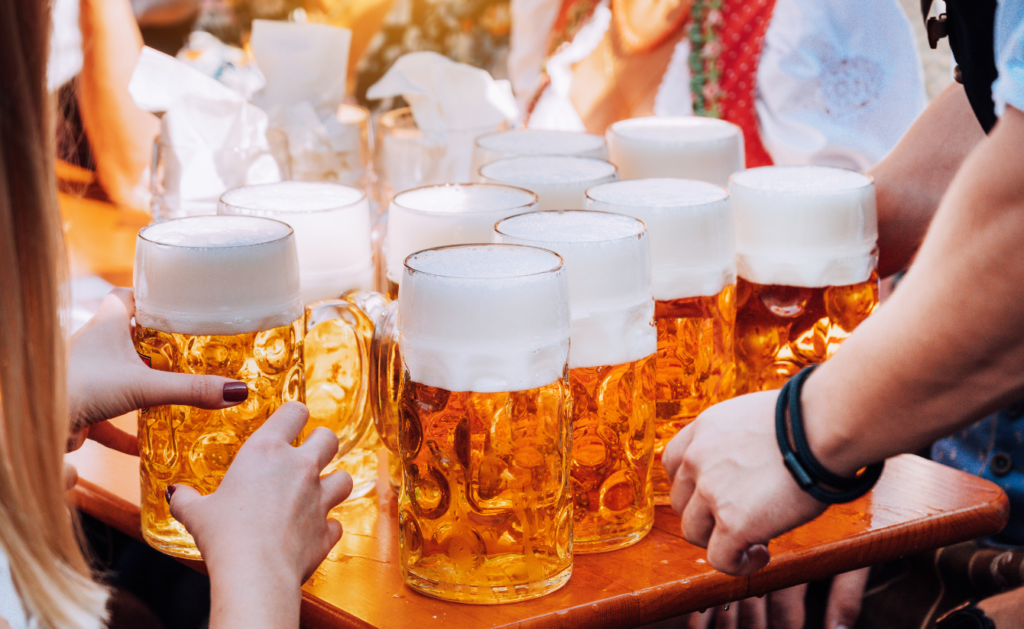 Oktoberfest Party Guide
So, you've got the knowledge, now it's time to recreate the most famous beer festival in the world from the comfort of home. Here's what you'll need:
1. Beer
As already mentioned, only beer brewed within the city limits of Munich is allowed at the festival, so to keep things authentic you should be serving any (or all) of the following: Augustiner, Hacker-Pschorr, Hofbrau, Lowenbrau, Paulaner, and Spaten. But if you want to really bring an Oktoberfest vibe, then grab yourself a keg and get tapping! But, let's face it, we're here for the beer, so anything will do, as long as it's wet.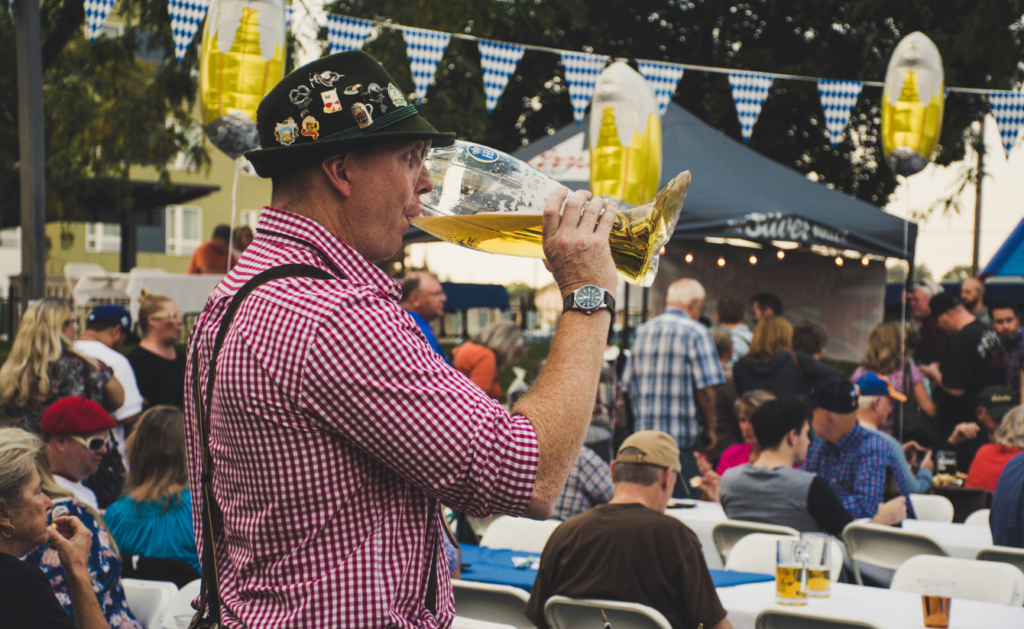 2. Food
Okay, so the festival is mainly about beer, but the food deserves just as much attention. Roast chicken is the most popular choice at the real festival, so make sure you put a few of those in the oven. For the rest of the party menu, you want to get hold of some Bavarian soft pretzels, bratwurst, sauerkraut, gingerbread biscuits, and apple strudel. Sehr delicious, ja?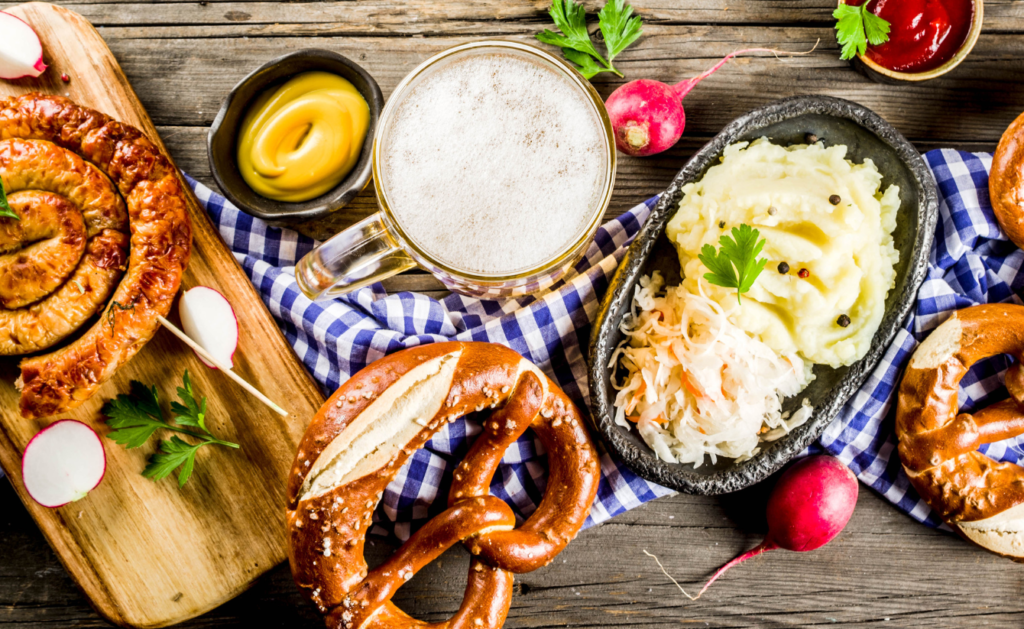 3. Decorations
Give your Oktoberfest party the right vibe by creating that beer tent feel either indoors or in the garden. Think beer steins, wooden tables and gazebos, or if you're having it indoors, focus on beer tent decorations such as Bavarian flags, blue and white streamers and tablecloths, barrels, evergreen wreaths and white table flowers.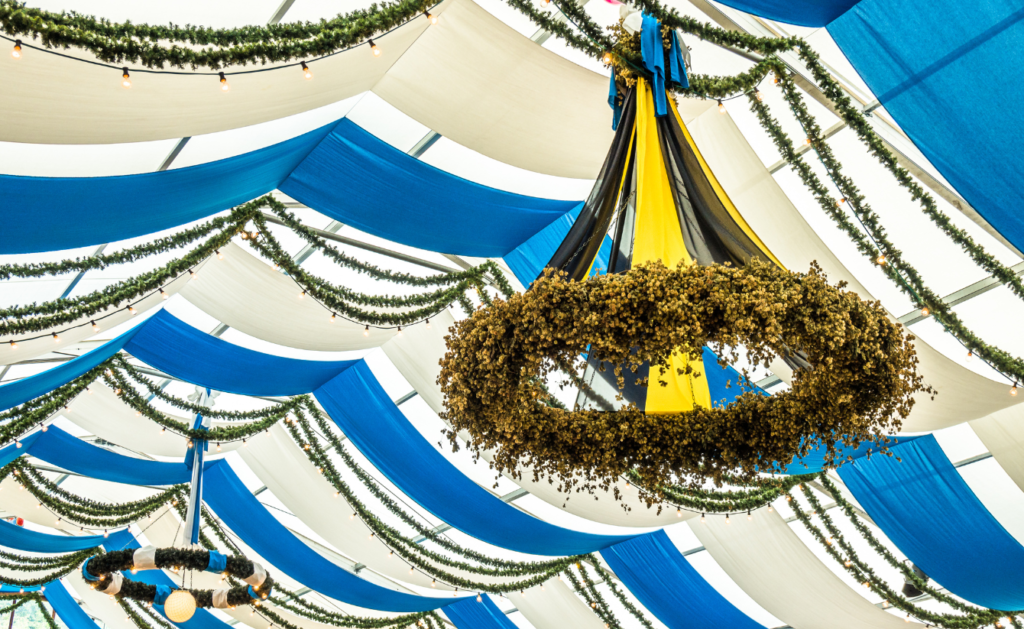 4. Music
No Oktoberfest party would be complete without the right music. Like the real festival, you can start a bit chill with traditional German oom-pah music; polkas and waltzes full of heavy brass and knee slapping. Later, you can move on to the Schlager pop music, the unashamedly cheesy hits that will bring back memories of that one time you went to a European holiday camp in the 80s.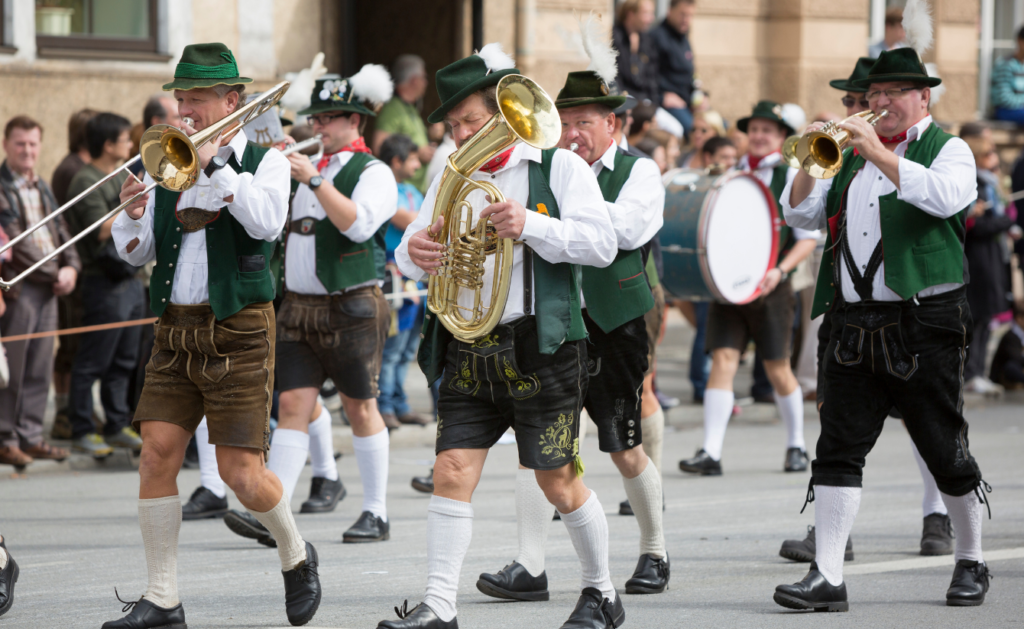 5. Outfits
Now that your gaff looks Bavarian AF, it's time that you and your guests put your glad rags on. Choose from lederhosen, felt hats, high socks, waistcoats, dirndls, aprons, flower crowns and braids. You might be hesitant at first, but trust us, there's something wildly liberating about wearing leather shorts whilst you drink litres of beer and consume truck loads of sausages.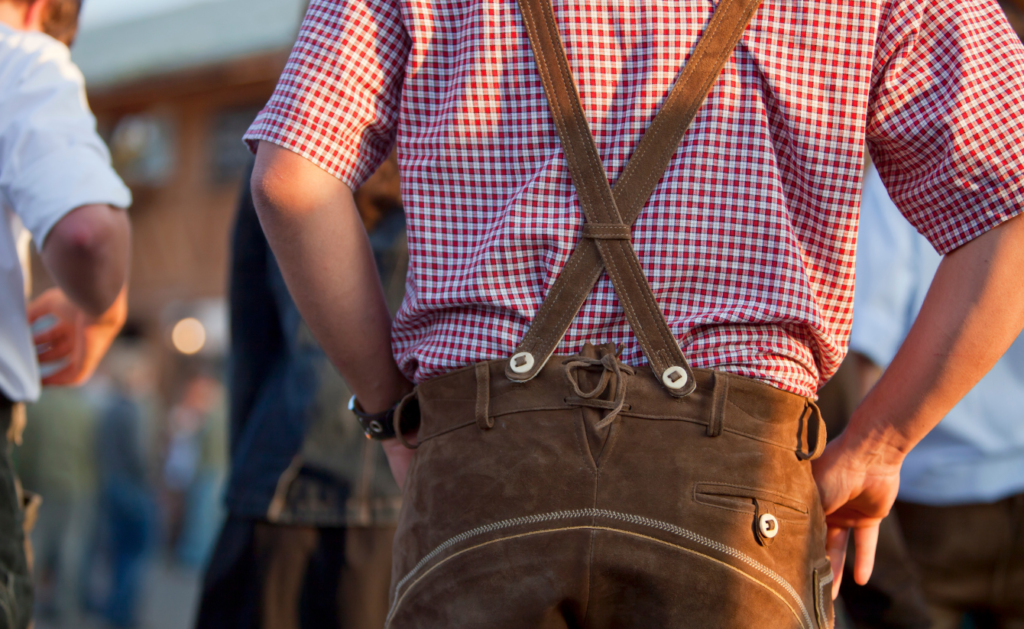 Your Oktoberfest Party Starts Here
If you're looking to add some special touches to your Oktoberfest party, check out our dedicated Oktoberfest section. Everything you see is easy to order with super fast shipping so will get to you in plenty time for your beer bash. From beer steins to tableware, our Oktoberfest gear will bring bags of personality to your party.
Prost!