Welcome to a Wrapper's Delight
Discovered Firebox after you'd bought your crap gift? These funny wrapping paper rolls will distract them from your poor effort.
When buying a gift for a friend or loved one, the best presents are always the ones that have some thought put into them. When you're the one receiving such a gift, you think, "Wow, this person knows me so well. I should definitely put more effort into their gift next time."
But what people often neglect when giving someone a gift is the wrapping paper. Even when you spend months researching and buying the perfect present, the wrapping paper tends to be a last-minute consideration. "I wonder if I have any lying around in a cupboard somewhere," you think to yourself before coming across some old brown paper, saying "That'll do" and getting to work with the scissors and Sellotape.
Funny Wrapping Paper Rolls for the LOLs
Instead of wrapping them in some boring, generic stuff from a stationer's, give the recipient of your gift a good laugh – before they've even opened your present – with one of these five high-quality, personalised funny wrapping paper rolls. We've even included a special bonus at the end.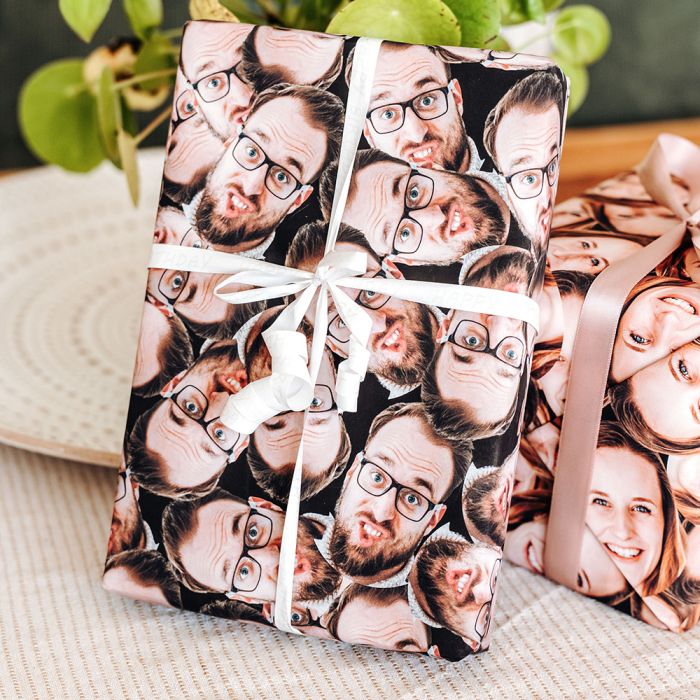 Have you ever spent ages trying to figure out which gift is for who because you couldn't find a name tag on it? It would be so much easier if each gift had the recipient's face plastered all over it, right?
That's exactly the kind of problem our Face Wrap solves. All you have to do is upload the face you'd like the wrapping paper to be adorned with, and we'll do the rest.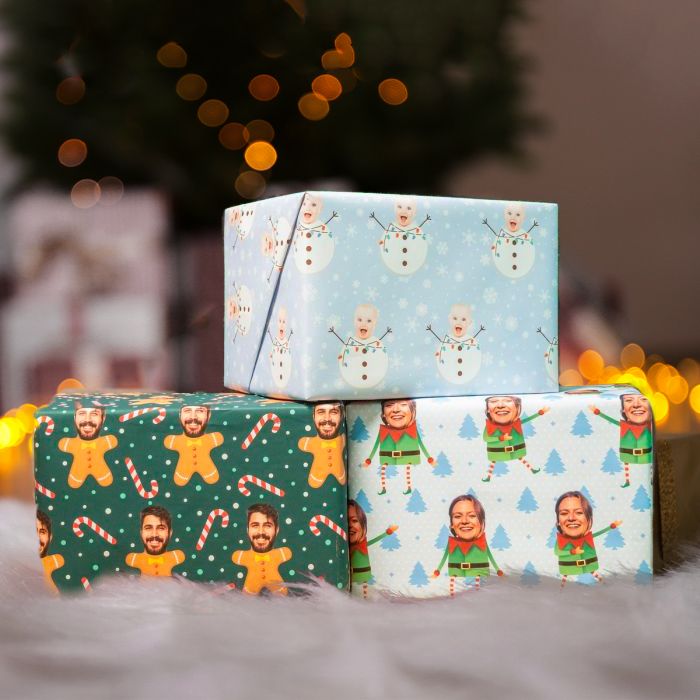 Put your friends' faces on the bodies of elves, snowmen and gingerbread men to make the Christmas gift-giving experience start before anyone has even opened a present.
Simply upload any face of your choosing and we'll work our festive magic.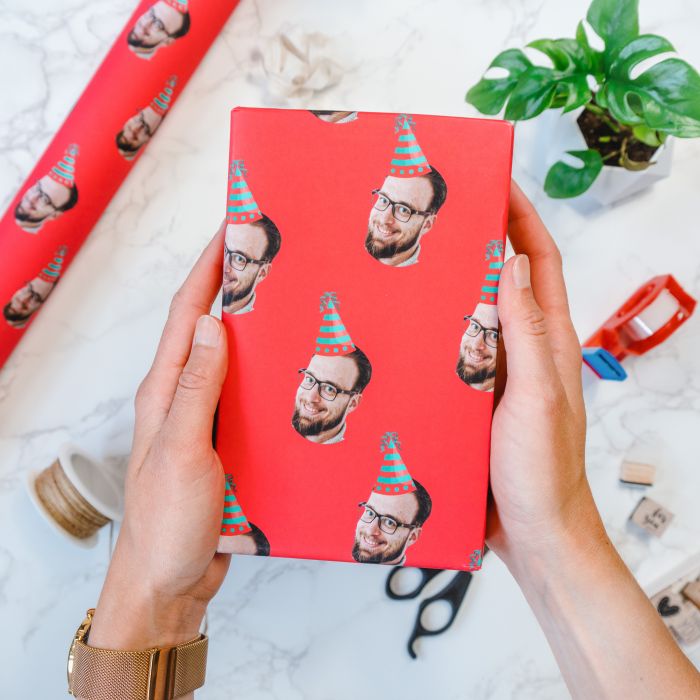 Think of this as a combination of the previous two sheets. Choose your preferred colour of paper, upload the face of your choice and we'll put a fashionable party hat on their head before sending it off to the printer.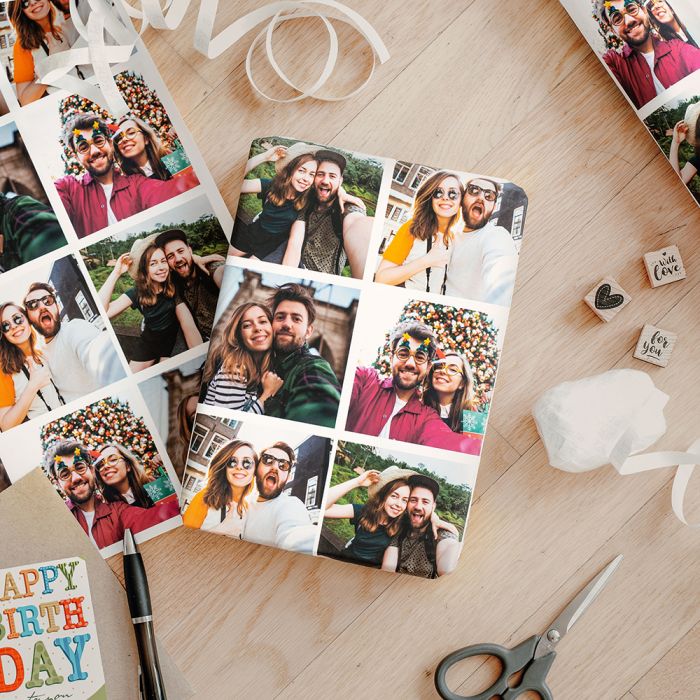 This wrapping paper is perfect for anniversary gifts, or to celebrate a special friendship. You can personalise it with up to four photos of your choice – perhaps four photos of your most cherished memories with the person(s) you're giving the gift to. We guarantee it'll make them love you (romantically or platonically) even more.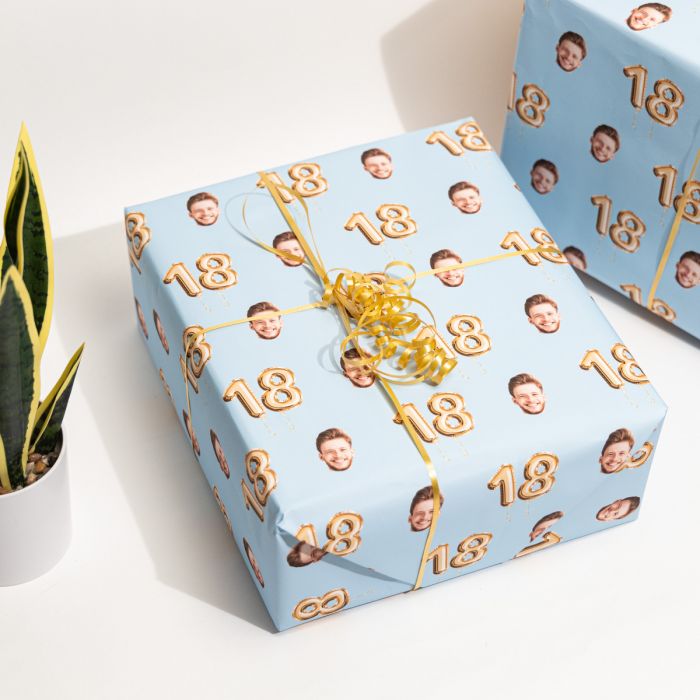 You only turn 18/21/40/60 once, so why not go the extra mile for your friend or loved one's milestone birthday with some special personalised wrapping paper?
Choose from a selection of milestone birthday ages, upload a photo of the birthday boy/girl, and we'll design a sheet of high-quality wrapping paper that will show them how much you're thinking of them on their special day (while also reminding them they're getting older).
6. Bonus: CrapWrap
Can we tell you a secret? We here at Firebox are terrible at wrapping presents. But some people seem to find that funny, so for £3.99, we offer our CrapWrap service to everyone buying a gift from our site. Expect recklessly ripped paper, pathetic attempts at folding, and absurd quantities of ugly brown tape. Maybe even a stray hair…  
We've been offering this service for 10 years, so you could say we've gotten very good at wrapping presents very badly. Here's how we do it:
Simply choose the CrapWrap option at the basket page and we'll do the rest. 
Want us to wrap the gift sensibly? Urgh, fine – we also offer 'normal' gift wrapping too.
Visit our FAQ page for more information on wrapping services.
And that's a wrap!
All of our funny wrapping paper sheets are made of high-quality 90g paper and measure approximately 150cm by 60cm. Order yours today from Firebox.